Gallery: Londa's Creative Sweatshirt Jackets
My 'love affair' creating wearable art on a sweatshirt base started back in 2003! Since then I've made I am sure - approx 350 jackets - many of them sold at fine art fairs, and on a website created for just that purpose (BEFORE ETSY came around!). In fact, I can still 'see' many of the gals I sold specific jackets to - and I trust they are still being worn and enjoyed!
The jackets here served to 'pave the way' to what you see now offered with full directions for the different patterns and jackets in books that I offer.
Current jackets available with directions can be seen on the covers of my patterns, in my books, and DVD. I share them with the prayer that they will inspire you - give you some creative ideas to create your own Creative Sweatshirt Jackets!
Refined Too - Denim Oriental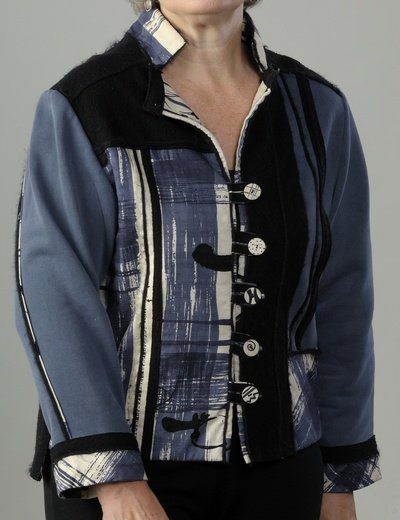 A lovely blue/white/black oriental print teams with black wool jersey washed and felted on this denim sweatshirt using Londa's Refined Too Talking Pattern™.
First jacket made...
The VERY first jacket I ever made - and had the idea to use that lower ribbing for the collar. Loved using batik fabric, and still do!
Refined Too - Coral Mandarin Collar Jacket
YES - I purposely made the fronts different lengths - using a piece of polar fleece to extend the long side. Oriental cotton provided ALL the wonderful fabric!
Londa's Illini Wear
Here in the land of the fighting Illini and Chicago Bears, I had a business: Londa's IlliniWear and made OODLES of jackets in orange and blue!
Love affair with 'hairy' yarn
Wrapping the edges with ribbon, and lettuce edging the lower ribbing as a collar. These techniques can be found now in my Rachel jacket in my Book 2.
Soft Bias collar
'Scraps' from my leftover sewing quickly got utilized in my jackets for sale. Here, a large bias rectangle created the soft collar.
Tasseled Cherry
Cherrywood cottons + couched yarn = a simple, great jacket.
Tied Up Vest
This vest with a USA patriotic theme was worn by a candidate for city council - and she won! Men's ties provided the fabric... Great with jeans.
Purples on periwinkle
Purple - my all-time best selling color!
Silk Velvet Collar
This jacket featured a silk velvet hand-dyed collar. I had a pretty small piece.... Note the 'yarn' belt.
More Illini-Wear
More Illini wear - or Bear wear... either way: Orange and Blue. How about creating in your favorite team's colors and be fashionable at the game?
Knitted Shawl transformed
When I closed my shop we had a yarn department, and this shawl was a piece that 'came home with me' and got a new life anchored to this sweatshirt jacket.
Victorian Garden
Wish I'd never sold this one! It was gorgeous, even though I learned from it to ALWAYS keep putting the jacket ON, to insure that the embellishment doesn't end up under your armpit and too far to the sides. Sold it for $275!
Victorian Garden Back
I love to take embellishment over the shoulder. This jacket was the LAST time I did conventional applique satin stitching as it just took too much TIME!
Left-over linen
Linen left over from one of my (still) favorite jackets adorns this sweatshirt jacket. Informal, asymmetrical balance is demonstrated...
Pansy Colors
Pansy colors - God created - inspired this jacket starting with a sateen print. The cardigan collar is from the lower sweatshirt ribbing. This technique is in my Genesis Too™ Talking Pattern.
'Tommy' Coat
I'll always remember I used a Tommy Hilfiger label from jeans we had bought and my hubby had worn - and then when I re-cycled that label on this 'coat' on a sweatshirt base with lots of denim and called it my 'Tommy Hilfiger coat' I got a call from their lawyer! Hence, I changed the name! I wonder if they'll call again...???
Sateen Floral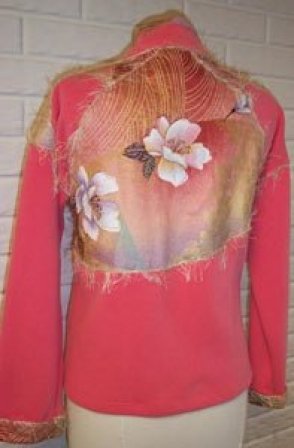 Shucks if I didn't manage to keep a photo of the front of this great jacket. The fabric was a Kona By sateen - and I LOVED this jacket!!! Another I wish I had back....
Oriental
This jacket, longer with a polar fleece 'stripe' bottom, had an oriental feel with the red sateen fabric I used for trim and in the 'obi' style belt. A petite blonde purchased it and wore during the Christmas season....
Simple and black
A crystal zipper and hot fix crystals can be all you need to create a classy jacket.
Pants re-cycled
The pocket on this vest was created from the elastic waistband of my '$1700 Pants' made from Louise Cutting's One Seam Pant Pattern ... as the silky pants had worn out between the legs...
Keeping someone warm...
This jacket was 'borrowed' I guess you could say by a homeless lady. I just pray it has kept her stylishly warm! It featured some silk dupionni left over from wedding sewing, and an angled front - with my experimentation to adding an 'underlap' then to the jacket front.
Learing to enlarge
Many have seen and heard the story of this jacket in my Jacket that Fit & Flatter class - how when I was making them to sell, I had to come up with ways of enlarging them. Below the strips of quilting 'scraps' down each front is an insert of another fabric...today, I'd use polar fleece for that purpose AFTER stabilizing both edges of the sweatshirt with Straight Fusible Stay Tape. Why polar fleece? Because it is a 'loft' similar to the sweatshirt fleece.
Bored with center openings...
Bored with center openings, this was my first endeavor to create a jacket with an angled front closure. It sold right off at a fine arts festival.....
Lower ribbing as the collar
I continually played with using the lower ribbing as the collar...an idea that can be found in my Genesis Too™ Talking Pattern™, and in Sweatshirt Transformations - a book with 8 jackets.
Simply knitted
On VERY large needles, I simply knit a shawl to add to this sweatshirt.
Created at a retreat
At a VERY HOT JULY women's retreat at Allerton Park in Monticello, IL, one summer, I created this jacket. Again, the collar is from the lower ribbing of the sweatshirt.