GENESIS PLUS TALKING PATTERN
GENESIS

PLUS

TALKING PATTERN™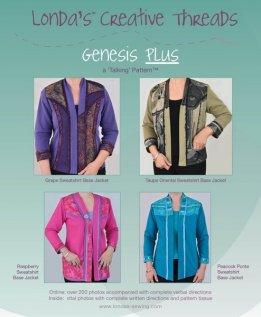 This 'online portion' of 'Genesis Plus' has been developed as an addition to the printed (or downloaded) product you have purchased. It will greatly ADD TO your learning and creative sewing experience.
The 'Talking Pattern' aspect of this pattern has NOT been developed to be a stand-alone, complete set of directions in and of itself. You will need to follow along with the printed (or downloaded) version of the pattern for the 'Sections' to 'make sense'.

Note: All image numbers do not exist in sequential order, but rest assured the photos I intended ARE here, and present in the order that I desire.
Below is an outline of the 'sections' of this Talking™ portion of the instructions - each being a LINK to that 'Gallery' of photos and audio.
Pattern pieces ARE included with this pattern. Click HERE to access the PDF pattern. (If you purchased the printed pattern you received the pattern pieces: partial Front, partial Back and Sleeve.
INTRODUCTION AND PATTERN ALTERATION
Images gf-1 through gf-7
SECTION I GENERAL DIRECTIONS including the GRAPE SWEATSHIRT BASE JACKET
Cut Sweatshirt Apart & Prepare for Cutting: gs-01 through gs-26
Baste to Fit: gs-26 through gs-32
Refine the Hemline: gs-33 through gs-36
Design Embellishing Fabric Sections: gs-37 through gs-48
Design Embellishing Trim: gs-49 through gs-61
Lien Yokes and Stitch Seams: gs-62 through gs-66
StitchSide seam, Hem, Insert Sleeves: gs-62 through gs-66
Finish Fronts & Neck: gs-76 through gs-93
Finish Sleeves with Turn Back Bias Cuffs: gs-94 thr
ough gs-104
SECTION II:
Embellishment Librar
y
this is the ENTIRE previous pattern known as Genesis Too which includes step by step directions for 2 MORE jackets!
Specific URL to go to: Design Principles to Guide & Filter
Specific URL to go to:

Embellishment Techniques
SECTION III
IMPORTANT:

Each of these groups below (each representing the other jackets as seen on the pattern front cover) is a separate Gallery so click on it To take you to that Gallery.
Sizing ts-0 through ts- 6
Design with a Special Fabric ts-7 through ts-29
Silhouette Design

pp-0 through pp-7
Hem Execution

pp-8 through pp-15



Stitch n' Flip Collar pp-16 through pp-21
Design & Front Bands pp-22 through pp-29
uff Finish pp-30 through pp-33
Adding Lower Band Extensions and Optional Pocket (rs-5 through rs-9) rs-0 through rs-14
Refine and Bind Lowermost Edge rs-15 through rs-19
Adjust for 'No Neck' Body Types rs-20 through rs-21
Finish Front Band w/ Notch rs-22 through rs-29


As always, if you have ANY questions, or need help in ANY WAY - I'm here for you...


just email me at londa@londas-sewing.com


I promise...I will get right back with you!